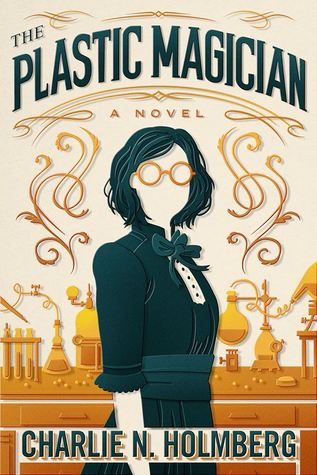 4 stars out of 5
**Thank you to 47North for providing me a digital ARC of this novel via Netgalley for the purpose of review**
I can't really tell you the full circumstances of how I stumbled across Charlie N. Holmberg's The Paper Magician — I don't remember much more than some sort of Kindle promotion and being struck by the cover. I was able to get the ebook and the audiobook for a ridiculous value and away I went on a charming journey involving turn of the century London, paper magic, and loveable characters. The entirety of the original trilogy was such a delight that I always knew, if I was having a bad day or just needed a smile, I need only return to the world that Holmberg had created.
Which is why, when I heard that Holmberg was creating a sequel/spinoff series set in the same world, I practically squealed with delight. Here's the thing about The Plastic Magician: it's not always the most innovative storytelling, sometimes it's downright predictable — but it doesn't matter. It doesn't matter because Holmberg has the unique ability to inject every sentence with charm. There's a whimsy and a delight to every page, and you can feel how much Holmberg loves writing in this world. And who could blame her? I certainly wouldn't mind being dropped into this world.
Alvie is a lovely protagonist, following beautifully in the footsteps of the original trilogy's Ceony — she's young, just graduated from school, and offered the chance to mentor under a master plastic magician. Not only that, she's going to be mentored by her hero: Marion Praff. These two's devotion to their craft and desire to create and learn is something with which any reader can identify, whether you're a creative or a scientist. They both see the value in creating beauty and in creating function, because ultimately both have their merit, even if serving a different purpose.
Like any story in this universe, there's some darkness — in this case we've got break-ins and thieves and jealous rivals that all create a rip-roaring adventure that left me smiling by the novel's conclusion. I'm more than ready for even more books in this series and this world, because I'd rather not leave it if I don't have to.